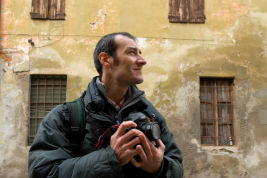 Images protected by copyright. Total or partial reproduction without permission is prohibited.
Biography
Giuseppe Arrighi.
Born in Maleo, Province of Lodi Italy, in 1965.
Technical Diploma with experience in a multinational company in the industrial cleaning field.
After some local photography courses he has dedicated himself to wedding photography since 1995.
In 1999 he began taking part in courses for specialization in editorial photography held by Fabrizio Pavesi (see link Avventura Foto) thereby taking the first steps in photoreporting and consequently discovering a new photographic " language" which would influence all of his work.

Today he is a freelance photographer specializing in travel, sport and nature, wedding and commercial coverage.

From May 2012 is a member of the Wedding Photojournalist Association (WPJA)
Collaborations
His photographs have been published in Lodi's newspaper " Il Cittadino", Akuna Matata's communication Agencies in Bergamo, Geko Communication in Milan, and magazines:
Isole & Isole, Il Buon Vino, Barche e Gommoni, Il Gommone, Visto, Oggi, Orobie, Partiamo.

Links
www.wpja.com
www.avventurafoto.it
www.giviellefoto.it
www.rosapeonia.com
www.fabiostrada.it
www.bernimotori.com
www.austria-italia.org
www.lefatedeifiori.biz
www.canon.it
www.lorenzodelledonne.com
FotoAzzini - Via Vittorio Emanuele 18 - Pizzighettone. Tel. 0372730137